GOLD (Girlguiding Overseas Linked with Development) is Girlguiding's flagship project, connecting around 40 Girlguiding members a year with 7 WAGGGS Member Organisations (MO) to complete a project based on that MO's aims. Projects take 3-5 years depending on the MO and their targets, and a different team is selected each year to continue the project.
Selection occurred for me at the end of September 2022 at the Go for GOLD weekend, a top secret weekend designed to challenge participants and see how they would work together in a GOLD team when faced with the unknown. At the weekend you learn more about what GOLD entails, the dates of the briefing weekends and you can then apply for GOLD if interested! The teams are made up of 6 people including a leader who has previously been on another GOLD project. I heard at the end of November that I was successful and would be joining team Madagascar Mpanazava in summer 2023. Over the next few months, we had Zoom meetings as a team to plan our training sessions and logistics. We attended two briefing weekends with the other GOLD teams and had our third and final briefing in June which was just for the 6 of us.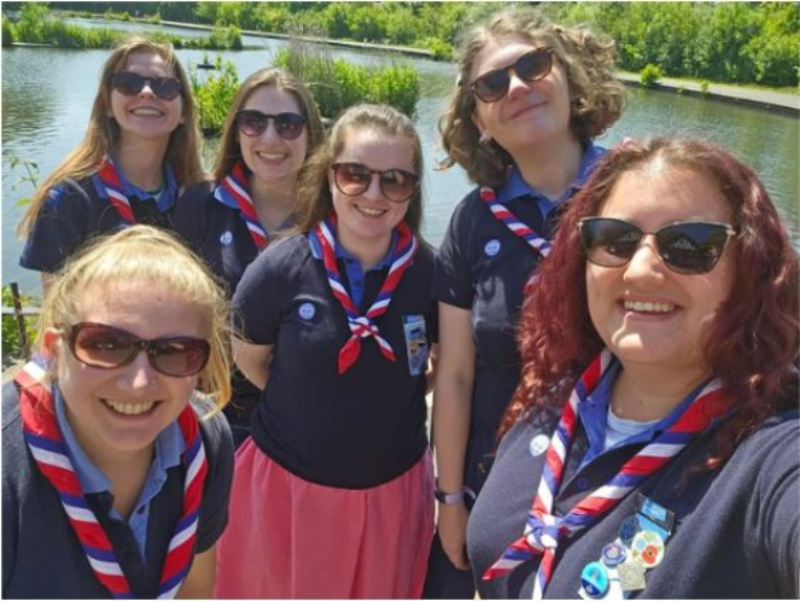 After a lot of planning, in July we met in London before two flights to Antananarivo – the capital of Madagascar. Madagascar has three Mos and two of them had GOLD projects starting this year, however we unfortunately didn't get to see the other GOLD team while we were there.
Our project was with Mpanazava Eto Madagasikara (MEM) and their GOLD team met us at the airport and stayed with us for the entire 3 weeks. Their main role was to translate during training sessions and when ordering or buying anything, but they also helped us to choose places to go to on rest days, taught us about their culture, and generally spent time with and had fun with us!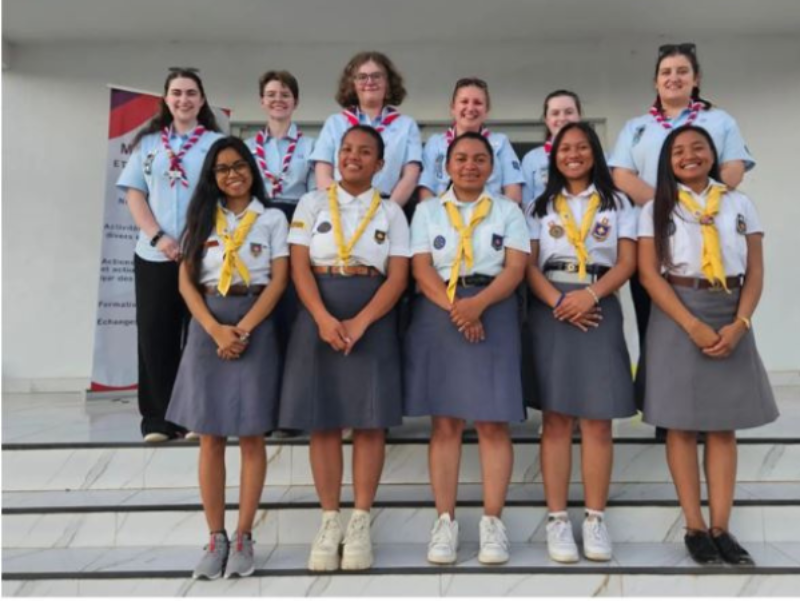 The aims for Mpanazava's project this year focused on non-formal education and facilitation, as well as increasing self-esteem in young members. Over our 11 training sessions, we reached over 500 members including 172 young members, Guiding for their organisation is very formal, usually involving a classroom set-up, so for our sessions which involved being very active, playing games, playing music through a speaker, and generally no sitting behind a desk, members were very engaged, and at the end of a leaders training, they actually asked for a dance party rather than going home! It was a very rewarding experience and it was clear that they got a lot out of it.
As the Training and Resources Lead, my role involved evaluating our impact, and I found that everyone enjoyed our sessions and said they would use elements of them in the future. In the self-confidence sessions, all of the responses received stated they would try to love and except themselves for who they were which was very empowering as this is everything we aimed for in these sessions.
Aside from training sessions, we got to see the Queen's Palace, Baobab Avenue, and even got to see some wild lemurs! A highlight for me was making my Trefoil promise at Baobab Avenue at sunset with Caitlin and Jean, as all of us are members of the Internet Trefoil Guild.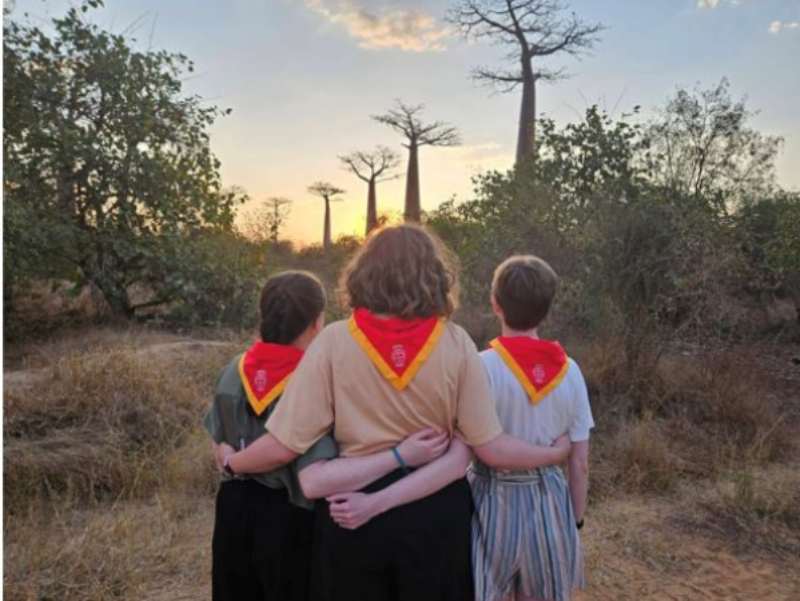 The Girlguiding GOLD volunteers did an amazing job of matching us together as a team. We had a lot of challenges on this project with power and water cuts being very common, illness and a reduced team for training sessions happening quite often, as well as plans generally changing quite last minute, but we all were able to help each other through these and most importantly stayed laughing the whole trip. Its hard to remember a meal we cooked without having to wear headtorches!
On one of our last days in Madagascar, we had a meeting with the UK ambassador to Madagascar, David Ashley. We visited his residence and were able to tell him about the project and the link we have with Mpanazava. He was very interested in what we had done while visiting, both in trainings and for tourism, and was grateful we hadn't needed his help while there!
This was the last year I was able to complete GOLD as I turned 30 so I was very lucky that I made it onto a team but if you are within the age range (18-30 when on project) I would highly recommend applying for Go for GOLD. GOLD is taking a one year break after next year, so applications for the next Go for GOLD will be open around April 2025 for projects in Summer 2026. This year also saw a virtual project with Nigeria so if block booking time off work or travelling is potentially an issue for you, its still worth applying.
Overall, I had an amazing time, I've made friends with people I would never have met, and travelled to a country completely new to me, all while challenging myself in a completely different environment. It really is a completely different experience to any other international opportunity as there are so many things you can't expect or plan in advance for. I can't wait to see how the next Mpanazava teams get on and hopefully get to speak to them and compare experiences! You can follow the facebook page "GOLD Madagascar Mpanazava" to see our posts on each day, and for the new updates once the next team has been selected and takes over the page! We also still have challenge badges available and I'm looking forward to be visiting some more units over the next few months to tell them everything we got up to and to run some badge sessions!