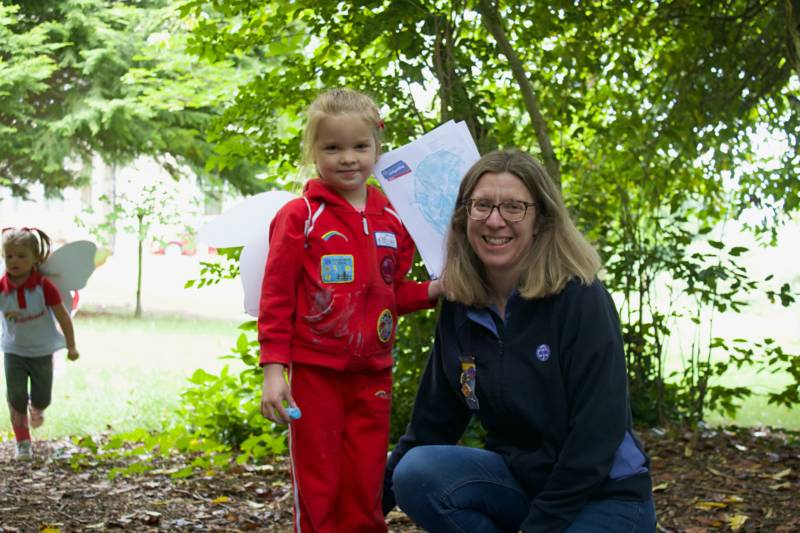 There's something for everyone in Girlguiding Ulster!
Parents are a vital supporters for Girlguiding and can help us to ensure girls have the best opportunities and experiences within Guiding. Helping and supporting Girlguiding units means that we can reduce our waiting lists and ensure more girls have the opportunity to get involved.
There are a number of ways that parents can help, see below, if you are interested in supporting Girlguiding or getting more involved then speak to your local leader or email development@girlguidingulster.org.uk.
Become a Volunteer
Many local units have waiting lists of girls wanting to join us but that are unable to mainly due to the shortage of leaders. By becoming a volunteer you can enable units to offer Guiding to more girls. For more information on becoming a leader including the benefits of volunteering for you click on the links.
I've loved helping out at Rainbows while my daughter was there. I got to watch her learn and grow with her friends and I learnt some new skills too.

Sarah

Parent Helper
Sign Up to a Parent Rota
Most units operate a parent rota especially in areas where there are a shortage of leaders. This means that parents take turns and help out approximately once every month to six weeks or on an ad hoc basis. This means that there is extra adult support for girls and helps to strengthen units. Parental support is vital in keeping units open and continuing to provide and exciting programme for the girls.
Fundraising
Parents can support their local unit with fundraising efforts or can lead their own fundraising initiatives. Maybe you want to run a 10k race or even a marathon, jump out of a plane, host a bake sale or bag pack at your local supermarket, we are always very grateful for any funds raised on our behalf. You can also set up regular or one off donations here.
Partner with us
If you work for or own a company or business and you would like to partner with us to raise awareness of an issue, to donate volunteering hours from staff or to develop a programme, event or initiative then please get in touch. For more information go to Partner with Us section