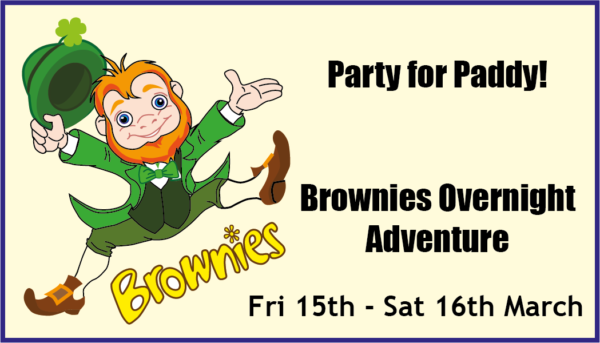 Party for Paddy!
An overnight adventure with all things green. Search for the Rainbow and find a pot of Gold.
Party for Paddy is a fantastic overnight for the Brownies to partake in activities and celebrate our culture! (includes a Lorne Activity badge)
Date and times: Friday 15th March starting at 6.30pm - Saturday 16th March finishing at 3pm
Cost: £50 for Brownies & £30 for Leaders
What to bring:
- Everyone will need to bring their own sleeping bag, or quilt, fitted sheet & pillowcase.
- Refillable water bottle
- Waterproof coat
- Change of cloths
Leader information:
- Leaders must ensure that the relevant Guiding forms are completed (including REN forms)
- That their individual appropriate ratios are met.
- Leaders do not need to hold their 'Going away with' licence for this event.
- Groups with little or no residential experience are welcome to join in.
Information pack will be sent out end of January 2024.
Please note that a non-refundable deposit of £20 will be required to secure each participant place.
Final balances will need to be paid in full by 16th February 2023.